I am like many of you who have designer taste but live in a real world where the balance in my check book doesn't always match my designer style.
The style of a fine wine but on a beer budget? LOL
Something like that, but you see where I am going with this.
I am a thrifty chick in everything I do.
I love great style but have a resourcefulness about myself that gets joy out of finding the look for less by shopping thrift stores, garage sales, even finding things on the curb to makeover, or the most economical choice of all.....using what I already have and/or making things myself.
When it comes to organization around the house I try ESPECIALLY hard to go cheap.
I do not want my organizational tools like baskets, bins, shelves, boxes, crates, etc. to cost more than the items they hold!!!
Do you feel this way too??!!
Well, good, because you are in for a treat.
As I was browsing thru my stash of Ballard Designs catalogs for inspiration, I came across these two adorable wire baskets.
They were in the Spring 2013 catalog
(pg. 44 of April catalog) and are called
Cleo Wire Baskets.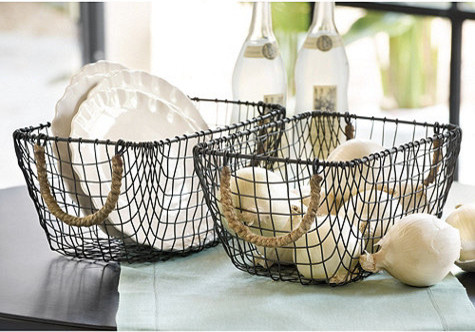 (via Houzz)
I immediately fell in love with them. Their look is so simple yet full of style.
From their wire form to their rope handles, they are so versatile and perfect for showing off dishes, collections of seashells, serving cookies, rolls, holding produce like fruit or onions like shown,
and they are affordable too. Score!
But, the resourceful thrifty chick inside me said "Girl, are you crazy? Everything you need to make your own Cleo Baskets is in the garage"!
So I listened to my inner thrifty chick and went out to the garage and sure enough, she was right! Damn that girl!!!
She is always right!!! :)
So I took a couple of the baskets I got from the thrift store (whole stack of silver wire baskets for $2 bucks!)
and spray painted two of them a rich, dark brown color to match the tone of the ones from Ballard, then tied rope handles onto the sides and I now have my Cleo Baskets!
I love when it all comes together easily.
Good style awaits you, just head out to your garage!