If you are anything like me, you are busy and don't have a lot of time to spend in the kitchen slaving over a stove to whip up fancy three course meals everyday.
I like to keep meal prep to 30 minutes or less. (Preferably less) LOL
I don't want to give you the wrong impression.....I DO like to BAKE, I just do not like to cook.
Sorry all you foodies out there, I just don't really care for "cooking" so it is no surprise when we have cereal for dinner, or something simple like grilled cheese or breakfast.
(I love breakfast for dinner and Mr. Chaos doesn't...so boo on Mr. Chaos!)
And like many of you, my man likes to eat meat.
I can be happy with a meatless dish but poor Mr.Chaos feels like I am starving him if I feed him a meatless meal, so here is a semi-healthy meal I whipped up the other day that we really enjoyed, and I hope you enjoy it as well!
(not getting paid or compensated by any of these brands, just walking you thru the way I made this dish.)
I used this Tyson pre-cooked chicken that you simply heat and eat.
To cook the chicken I simply added it to a pan with diced onion for a couple of minutes on medium heat until the chicken thawed out and warmed up. (no water or oil needed).
After that I added about half to 3/4 of the bottle of BBQ sauce then stirred frequently until the mixture was fully cooked throughout and hot.
Of course we are from Kansas City so we like KC Masterpiece BBQ sauce, but any BBQ sauce will do.
One you have your chicken mixture ready, just sprinkle in about 1/4 cup of the shredded mozzarella cheese into the bottom of the flat bread pocket, then spoon BBQ chicken and onion mixture into the pocket and sit face up in a small glass baking dish.
(I made some with cheese on bottom and some with it on top.....its really up to you on how you like it)
Repeat the steps until you have filled 4-8 pockets

.
The number of pockets you can make depends on how much chicken you add to each pocket.
I made 5 pockets and only used about 2/3 of the bag.
After your bread pockets are filled and lined up on your baking dish, just pop in the oven
for about 10 minutes on 350
just long enough for the cheese to melt and the pocket to get slightly crisp on the ends, and that's it.
I served this with a side of green beans, and iced tea to drink.
Mr. Chaos got his meaty dish and I got my BBQ craving with whole wheat bread.
....and the best part is that this was so clean and easy to eat! No messy hands like you get when the sauce and meat drip off of your hamburger bun,
and we also had enough of the chicken mixture and a few more bread pockets for Mr.Chaos to take in his lunch the next day......so everyone is happy! :)
We really liked this meal and I hope you do too!
Jennifer
Linking Up To: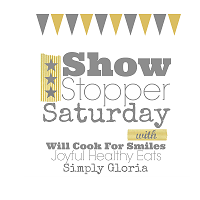 http://www.ellaclaireinspired.com/2013/08/the-inspiration-exchange-no-13-and_20.html
http://betweennapsontheporch.net/creating-a-small-sun-loving-perennial-garden/
http://www.astrollthrulife.net/2013/08/178th-inspire-me-tuesday-winner-of.html