It was now time to finally get rid of the typical "boob" light and upgrade to something more my style that would also provide more light.
I knew I wanted to keep the Oil Rubbed Bronze finish and that I wanted a fixture that provided more light than what I had before, so when I found this light at Lowe's I knew I had to have it!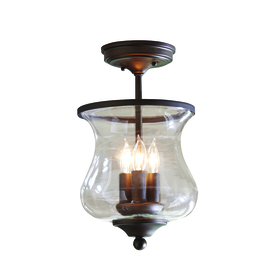 I love how the three bulbs light up the room and how the ORB finish looks against the color of the walls.
The glass globe is also pretty and allows for all the light to shine through unlike the light I had before.
That frosted finish on my old boob light was hard to keep clean and it filtered the light too so I always felt like that room was too dark.
When we went to hang it up we discovered that the hole in the ceiling was bigger than the mounting piece on the light so we had to work around it by adding a ceiling medallion.
I love this one because it has a beaded edging and is pretty simple so it does not compete with the look of the light fixture.
I have been searching online and the retail stores for a while now for that one fixture that I knew was the one. I started to get bummed out but then I discovered this light and knew it was the one!
Now that the ceilings are done and the light is up, I'm so relieved to be done with the hardest parts of this makeover. All I have left to do now is get organized and decorate....you know, all the FUN stuff! :)
Jennifer